Got something very special on the way so am selling my trusty ULI Steamroller. The board is in very good condition. It has had the deck grip peel back and been re-stuck down a few times but other than that the board is terrific. An excellent standup board capable of much more than I can do. Complete with pump. £450 - Delivery possible from £25 to the UK. I could possibly chuck in a 6' ULI inflatable surfboard for £500 ALL UP plus carriage!!
UPDATE 2nd December 2010 - Many thanks the Steamroller and the 6'ULI is now sold! And will be living in Germany. Well they are travel boards!!!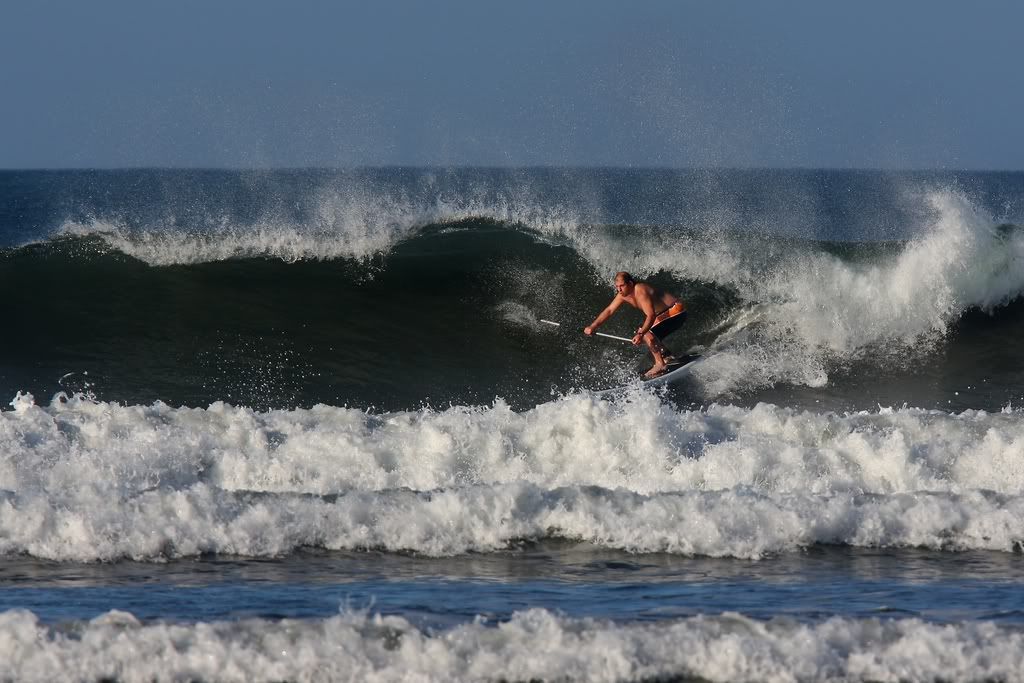 I know they are old pics but I do like them.
Obviously as it's a travel board I could ship it overseas subject to having cleared funds but please be aware shipping costs to the U.S. for instance could be as much as £160. Way less to mainland Europe but Italy and Switzerland seem to attract a premium.
The Steamroller was brand new to me in July 2008 my first blog entry was here
http://csx355.blogspot.com/2008/07/10-uli-steamroller-and-stuff.html
It was my second ULI standup board. The Steamroller was my last twin skin construction boards before ULI started delivering the lightweight single skin jobs. Hard to describe but trust me they are bombproof.
Construction is excellent no cracks or issues. As I said the deck grip has come unstuck through being rolled up and with the temperature differences in aircraft holds etc. but I have just restuck it down and I dare say that anyone that has it will do the same from time to time. The Fins are hard flexible plastic and they have some 'slight' scuffing on the edges. They can also take a 'set' after being rolled up however with warm water / warm air temps they always return to straight.
The 10'r was much more of a surf board than my original 11'r however as my pics show it is still more of a cruiser than a short board. You have to turn it from the tail but it nose rides really well. My Gerry Lopez 9'11 is much more 'slashy' and way more tippy.
My only relationship with ULI is as a very satisfied customer and they used some of the words from my blog on their website. The guys at ULI are totally genuine and care about their product. I had the pleasure to meet with Jim Weir this year in Costa Rica and share a few waves with the guys - never stopped laughing.
Total respect for Team ULI - they have totally transformed my trips away.
The Board rolls up and is then held with a strap before it is packed away in a bag. It comes with a high pressure pump and guage (only pump to 15psi).
Be sorry to see it go but I have the ULI Lopez and that's all I have to say about that!!
Quick Movember update - we have currently raised £334 with the bulk of it still to come in. Currently sporting a Mexican Bandito sort of thing. Charmaine likes it!!
Quick Mana update - should be getting the new 9'er towards the end of the month - Come on!!
Totally busting to say more . . . but can't !!